Zinc-Gat is a source of plant available chelated zinc. Recommended for the nutrition of agricultural crops prone to zinc deficiency.
Composition
Zn-EDTA 4% chelated zinc (54 gr Zn/Lt)
Reaction (pH): 7.5
Volume weight: 1.36 gr/cm³
Packaging
Zinc-Gat is supplied in 10 Lt cans, in jumbo containers up to 1,000 litres; in bulk or added to a liquid fertilizer.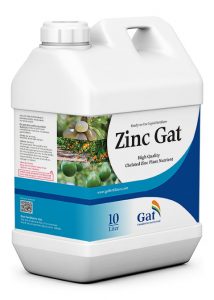 Recommendations for the use of Zinc-Gat
Remarks
Dosage
Age
Crop
divided into 4 – 8 weekly fertigation applications
25 Lt/ha
1 yr.
Deciduous
divided into 4 – 8 weekly fertigation applications
50 – 60 Lt/ha
2 – 3 yr.
orchards
divided into 4 – 8 weekly fertigation applications
60 – 80 Lt/ha
3+ yr.
and Citrus
divided into 4 – 8 weekly fertigation applications
60 – 80 Lt/ha
mature
Vineyards
divided into 6 – 10 weekly fertigation applications
80 –100 Lt/ha
mature
Mango
divided into 4 – 6 weekly fertigation applications
40 – 60 Lt/ha
 
Vegetable crops
soil injected with tines
20 – 40 Lt/ha
 
Groundnuts
20 – 40 cm³/m³ irrigation water, as required.
Flowers